For Immediate Press Release
Thursday, January 10, 2019

City of Henderson selects Dilli Labs to develop Amazon Alexa Voice Assistants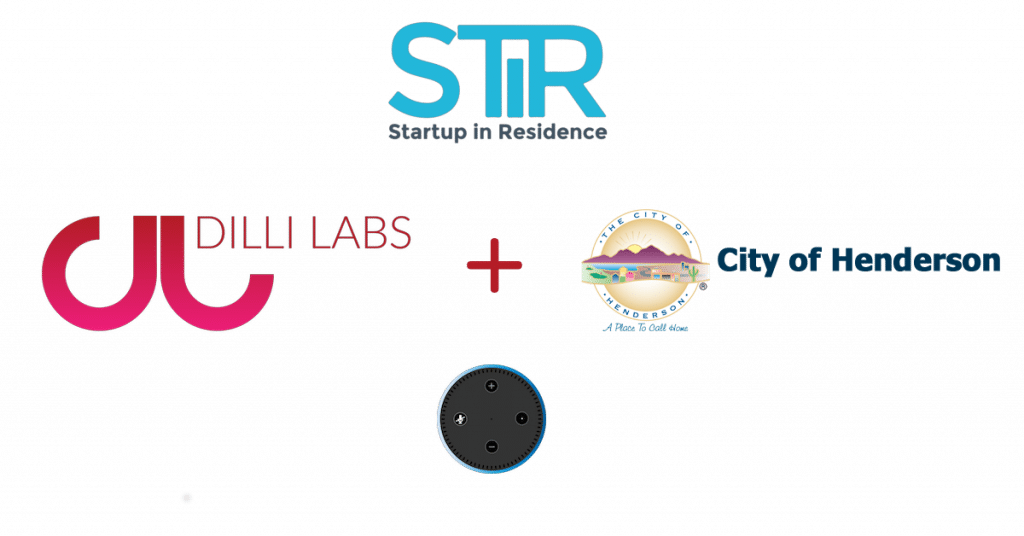 San Francisco, CA: Today, DILLI LABS announced that it has been selected by City of Henderson, Nevada, USA through a competitive process to participate in its 2019 Startup in Residence (STIR) program. Nearly 700 startups competed for a chance to work with 22 governments for the opportunity to secure a contract. The selected startups will volunteer their time with government agencies over 16-weeks to tackle civic challenges with new technology tools and services with an objective to enter into a contract with the government agency at the end of the residency.
San Francisco based DILLI LABS will work with City of Henderson to enable city residents to have a voice interface to city services.
"We are excited to join hands with City of Henderson and help them ride the wave of voice assistants to better the lives of their residents." said Piyush Hari, Principal at DILLI LABS. He added, "Using an intelligent voice assistant based on Amazon Alexa to connect to city services will be very natural and convenient compared to the conventional ways using web, mobile or telephony. The day is not far when all of the cities will deploy voice assistants that will serve as the primary channel for their residents to interact with city services."
DILLI LABS wrote their first voice assistant back in 2016 with the launch of Doctor Pooch – an Alexa skill that one can talk to in order to find if its safe to feed dogs certain foods – a common use case among dog owners. With about 50,000+ unique customers since launch, being featured numerous times, and providing a continuous revenue stream, the success of Doctor Pooch speaks volumes about the power of voice assistants. Since then, the company has written over 10 Alexa skills and 1 Google Assistant Action. One of the other interesting skill – DILLI FORMS – allows users to request popular forms like W-9 and Freedom of Information Act delivered straight to one's email inbox by simply asking for it."In the context of cities, imagine residents asking for the Park Reservation Form and getting it delivered straight to their inbox pre-filled with their name, phone, email and address! It seems like magic, it really is.", said Piyush.
As featured in Crunchbase – STIR Challenges 40 New Startups To Collaborate With Governments.
STIR is now in 22 governments across the US and Canada and has worked with nearly 100 startups. The national STIR program is supported by City Innovate.
"The Startup in Residence program is a model for civic innovation and national collaboration," said Jay Nath, former Chief Innovation Officer for San Francisco and Executive Director for City Innovate. "This program is a unique opportunity for government agencies and startups to think creatively about how we can all work together to modernize government to benefit residents."
Past projects in other communities have included working on issues such as streamlining the foster care application process, smart sensors on trash cans, homeless health services, volunteer engagement tools, and developing tools to assess the damage in the aftermath of an emergency like an earthquake or flooding. The program also offers education for government and startup staff in areas including design thinking, lean methodologies, procurement, civic technology trends, and new methods of product development and procurement.
# # #
About DILLI LABS: Dilli Labs is a premium technology consulting firm based out of San Francisco, California specializing in development of voice assistants. To learn more about Dilli Labs visit: https://www.dillilabs.com
About STIR: Startup in Residence (STIR) connects startups with government agencies to develop technology products that solve real civic challenges through a 16-week program. See all the 2019 STIR team partnerships here. To learn more about Startup in Residence visit: https://startupinresidence.org.