"Country Game" New Version Released On Amazon Alexa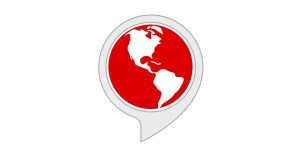 We are excited to release an update to our popular Alexa Game Skill – Country Game. This version is a complete rewrite of the game leveraging some of the new ASK (Alexa Skill Kit) SDK features such as persistent attributes.
In addition, players now have a way to continue the game even if they can't think of a country name by using the "Pass" feature. Simply say "Pass" if you can't think of a country name and while you would lose 100 points, the game will continue instead of abruptly ending previously. Play the audio below to understand the "Pass" feature.
This is how the Voice UI looks like with the "Pass" feature:
Alexa:
(speaks a country name)
Surinam
e
Player:
(can't think of a country name starting with 'e')
"Pass"
Alexa:
(game continues but 100 points deducted for using a Pass)
Equatorial Guinea. Duh! You lose 100 points!
About Country Game
Country Game is a child-directed Amazon Alexa Game Skill aimed at improving knowledge of country names among children and adults alike. Take turns speaking country names with Alexa while learning interesting facts about countries and challenge yourself while competing with others in this fun and engaging game. Click the link below to learn more.