Our Alexa Skill "Doctor Pooch" crosses 500 reviews!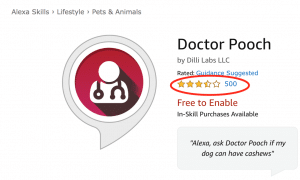 We are excited to report that our Amazon Alexa skill – Doctor Pooch – got its 500th review today!
Doctor Pooch answers if dogs or cats can eat certain foods or drink certain drinks. It also helps pick a name for your pup. Doctor Pooch can also play soothing music to calm your pet.
Learn more about Doctor Pooch by clicking the card below.