Dilli Email Validator WordPress plugin now supports whitelisting email addresses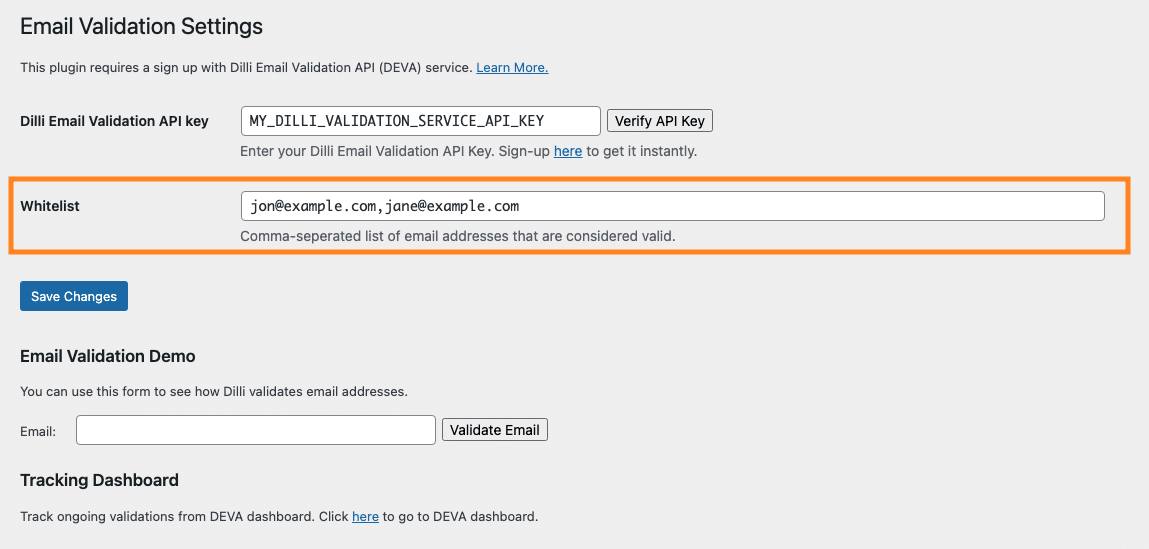 We are happy to announce the release of version 1.5.8 of Dilli Email Validator – a WordPress plugin that seamlessly embeds advanced email address validation capabilities in a WordPress site by integrating with Dilli Email Validation Service. This new version allows site admins to whitelist email addresses by adding them (as comma separated values) to the 'Whitelist' field in the plugin settings. If a use case in the WordPress site triggers validation of any of these whitelisted email addresses, our plugin will simply ignore it and not issue an API request to our email validation service. This would not only reduce the latency because of fewer API requests but also lower the cost since every API request consumes a validation credit. Thus, leading to a better user experience and a reduction in costs.
A classical example of where this feature is useful is when a site admin uses Contact Form 7 plugin for embedding forms on the site and have multiple recipients (to, bcc, and/or cc) configured to receive data from form submissions. While the intent of the site admin is to validate the user e-mail address (as filled in the form) only, the recipient e-mail addresses get validated in addition, upon every form submission. Each e-mail address validation issues a corresponding API request to our validation service. Only when our validation service validates all of the email addresses and responds to each of the queued API requests, the form submission succeeds. This leads to a bad user experience especially when there are many recipients configured in the Contact Form 7 settings. Now, with the 'Whitelist' feature, site admins can simply add the recipient email addresses configured in the Contact Form 7 plugin form settings to the 'Whitelist' field in the Dilli Email Validator plugin settings and the system will not validate the recipient email addresses upon a form submission leading to better user experience and reduction in costs.